THE ULTIMATE mobile CHICKEN COOP FOR YOUR BACKYARD
100
+
1000
+
15000
+
2500
+
Are You Sick Of Your Chickens Destroying Your Backyard?
Those damn chickens just never stop scratching, in no time they turned your grass into dirt and you just can never get your grass back no matter what you try.
You love your chickens but you want your backyard back full of green grass and not this dirt paddock it has become.
What if you could easily move your Chicken Coop and use the chickens to manage your land not have them destroy it?
The Chicken Caravan 10 is an automated potable chicken coop that houses 10 hens
It lets your hens out in the morning and then locks them away at night. It is powered by solar, keeps the water fresh, the feed dry, eggs clean and it's really easy to move.
This means you can move your chicken coop around so your grass doesn't get destroyed and no snakes can take up residence inside your chicken coop.
With the Chicken Caravan 10, you will never need to collect a dirty egg again. The nesting box is a rollaway nesting box, meaning as soon as the hen lays her egg it rolls down to a collection area not accessible to the hen. Your fresh eggs are kept clean, safe and most importantly not making a mess that you have to clean up!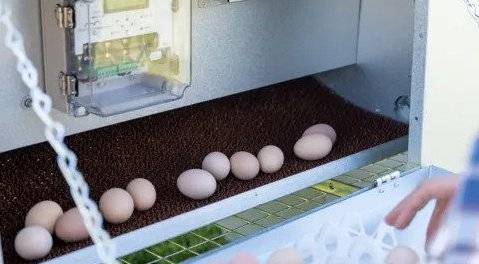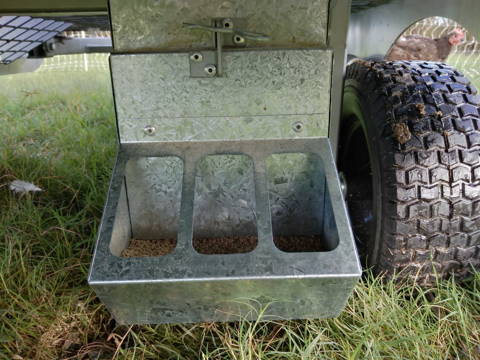 A feeder that your chickens will LOVE!
A lot of chicken feeders on the market are not designed for the outdoor environment. But never fear, your Chicken Caravan 10 comes with a large, gravity fed galvanized steel feeder, with wide weather covers on all four sides. This hangs securely under the Chicken Caravan 10, ensuring your feed stays dry.
Don't Just Take Our Word For It
Swipe to hear stories from our happy customers!
Portable Chicken Caravan 10 Accessories
Will I have to weld the Chicken Caravan together?
No. The outside structure is bolted together, and the nesting boxes are pop riveted together
How long does it take to put together?
The Chicken Caravan take two people 1 day to assemble.
What options can I get on the Chicken Caravan 10?
You can get the lighting kit, Large Water bottle kit, Fencing kit.
What tools do I need to assemble the Chicken Caravan 10?
Cordless screw gun, tape measure, spanner set, socket set.
Can I just buy the flat packed nesting boxes and put them in my own shed?
I'm not good at putting things together. Can I pay you to assemble it for me?
Yes certainly, we do offer workshop assembly. For customers from Australia, please contact us for more details on this service.
How is the flat pack Chicken Caravan delivered to me?
We can arrange delivery of your Flat Pack Chicken Caravan with a Trucking Company.
The Chicken Caravan 10 will be delivered flat packed in a timber crate, you will need a forklift or tractor with forks to unload the package from the truck. If you do not have unloading equipment please contact us before purchase and we might be able to arrange alternative delivery options.
Please contact us and we can send you a quote.
I don't live in Australia. Do you sell overseas?
Is chicken fencing provided?
The chicken fencing is available to buy separately from our store.
Does the Chicken Caravan 10 come with warranty?
Yes, the Chicken Caravan 10 comes with 12 month Warranty, Please feel free to contact us for more information.